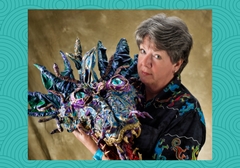 Little did I know during 35 years as a Federal government leader and executive that a sculptor lurked within me.  After finishing my forever home, planting the garden and writing my autobiography, I had a profound need to sculpt a monster.  During the process of producing "Dave", I found it therapeutic to create something intentionally ugly and dysfunctional that embodied all the worst traits of the most malignant managers I had met.  Having purged that residual resentment I began creating the most optimistic, cheerful, wacky and whimsical creatures imaginable.  It was like opening a door to a part of my brain that I didn't know existed.  Venting all that humor has greatly improved the quality of my life and has endlessly amused my family, neighbors, and the people who adopt a Creature of Imagination.
20/20 Hindsight
The backstory on this is that I was somewhat baffled by my artistic colleagues who seem riveted to the view in their rear view mirror.  Who cares what happened before?  That was then, this is now, and the challenge is to figure out what makes the most sense now with an eye to future consequences.  And I pictured this old guy sitting majestically in an Indian peacock chair attempting to steer his snail and effectively direct his spear while facing firmly backwards.  It gave me a belly laugh.
We all know people (and institutions) who prefer to drive while focused solely on the rear view mirror.  It makes for a dangerous commute both for themselves and for others as what may have been true, prudent, or correct "then" is not necessarily so "now".  This sculpture contemplates the futility, cost and ultimate irrelevance of trying to steer a path into the future while fixated on what is already behind you.  The self-satisfied character on the snail is content and determined to try to lead his snail while both he and his lance are pointed backwards.  Unless the future is trying to sneak up on him from behind, he is doomed to fail.
As one of 372 Creatures of Imagination sculpted since 2011, this snail and its rider have stories to tell. The snail is moving forward as is its nature (snails don't have a reverse gear), and it tolerates with some amusement the contradictory guidance from the man in the chair.  Over the course of 35 years I often did the same thing – till one day I realized that the people in charge were making it up as they went along just like the rest of us allegedly lesser beings.  Rather than get angry, I just started taking the reins in my own hands.  The creatures I now sculpt are all self-motivated, action oriented, and convinced of their ability to succeed in whatever career they choose.  Their unbridled optimism and self-confidence routinely makes the people who see them smile and often laugh right out loud.
Read the book detailing the life and times of over 80 of the creatures that inhabit the menagerie of my imagination: Creatures of Imagination, A Journal of Discovery.
Read about the dinner events on 09/11/07 and 09/16/15 in Washington with Carol Willett.
Carol is a juried artist with multiple solo shows. Her work may be found at the Dare County Arts Council in Manteo NC, the Ghost Fleet Gallery in Nags Head NC, the Gallery of Fine Art in Wilmington NC and in her home gallery in Southern Shores (open by appointment). You can contact her at 101 Airstrip Road #380, Kill Devil Hills, NC 27949.
Gallery Shows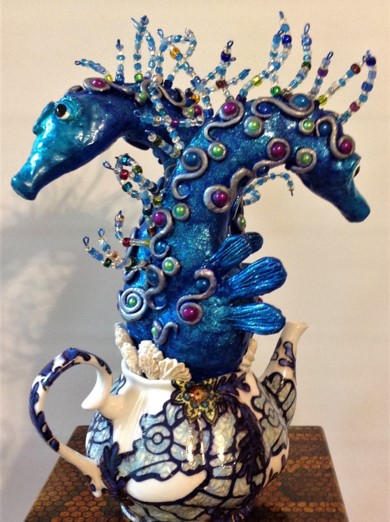 Click below to go to
Wilmington Gallery of Fine Art – Creatures on Display August 2020