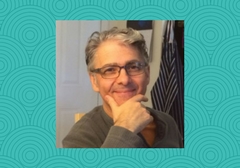 Contact: awolfberg@gmail.com
Ebooks
Adrian is one of four Senior Fellows and Friends who co-authored the 2017 ebook, Boundary Spanning in Practice: Broadening the Conversation.  His chapter is entitled, "At the Street-level Intersection of Organizational Boundaries: Competencies for Sustainable Change."
Events
Read the recaps of our virtual conversations on 08/30/19, 12/03/19, and 03/03/20, during which Adrian "Zeke" Wolfberg explained his continuing research on boundary spanning.
Articles
The Impact of the Analytic Review Process
In 2009, the Director of DIA asked the DIA Knowledge Lab to find out if the review process of analyst's assessments was having a negative impact on the agency's ability to support customers with intelligence reports. The analytic review process begins after an analyst puts pen to paper and ends when the report receives final approval for dissemination to policymakers and military commanders. The Knowledge Lab report was delivered in 2010 to the Director of DIA. The report revealed three major areas of concern, at the time of the study: 1) different views about the value of the existing review process; 2) a common frustration with multiple steps in the review process; and 3) the lack of customer interaction.  Read more here.
Learning and Adapting while Doing
In 2009, when I was chief of the Knowledge Lab (2005-2010), we wrote a report about a study we conducted within the Defense Intelligence Agency workplace. That report can now be publicly available. The report was based on a premise, a philosophical stance borne from prior experimentation in the Knowledge Lab in its earlier years, that we are much more effective at learning from our actions and beliefs if such learning is deliberately embedded into the workflow as the work occurs, instead of waiting until sometime well after the work project is completed and then retrospectively analyzing what went well, what went not so well. Those familiar with Schon's (1983) work will recognize this idea as similar in kind to "reflection-in-action," and with Argyris' (2002) work as "action research." What we saw was the need to reframe work processes so that as issues occurred, a reflection space existed so that issues could be addressed in real-time in order to make course corrections.  Read more here.
Transformation as Revolution
In 2006, I wrote a short 6-page paper about how and why the DIA Knowledge Lab was created. It's a story about revolution, but not in the sense of a revolt against the "given order," rather, a "turning" or reforming aspect. Any turning activity had to confront the inflexibility of bureaucracy and the resistance by members within the bureaucracy. Navigating these two dynamics was a challenge for the Knowledge Lab. I am posting this 2006 paper now because I thought it might be of interest today.  Read more here.
The "Crossing Boundaries" Program
One of the biggest errors in judgment in organizational behavior is the expectation by subordinates that only those in charge are responsible for making change happen. It's not that leaders have no role, but at the implementation level, the work of change falls into the hands of subordinates. If employees own the improvement, what a difference that makes. What if the power for making improvements to organizational challenges were placed with the employee? Clearly, leadership would need to embrace such a philosophy, and if they did, the process and procedures for making employee engagement a reality can be accomplished. We did it at the Defense Intelligence Agency with the Crossing Boundaries program.  Read more here.
Crossing Boundaries to Build Change
Solving organizational problems is usually thought of as the responsibility of the "top leader," and the "system." But, actually, the employees and managers experiencing the problem are the best at solving such problems. Leadership's role is limited to empowering employee and manager action vertically and horizontally across the organization.  Read more here.
Achieving Clarity in a Constantly Changing Environment
We know the importance of "skills" necessary for employees to do their job. But we think that "attributes" are equally important knowledge components of employee development. Attributes are developed at the individual level, help being proactive rather than reactive, and help respond more quickly to changes in the internal or external environment.  Read more here.
Smart Mentoring to Increase Network Connectivity
One of the advantages of social networking is its use in orchestrating a mentoring program. The idea is to connect the mentor-mentee from opposing sides of social network positions: bring the central and peripheral individuals together. The central individual offers connections and integrates mentees into the organization, while peripheral individuals would bring unnoticed or undervalued skills and perspectives into the organization. In Cross, R. et al. (eds.), Organizational Networking Fieldbook: Best Practices, Techniques and Exercises to Drive Organizational Innovation and Performance. San Francisco, CA: Jossey-Bass, 2010.
Read more here.
The Role of Innovation: Creating a Culture of Improvement
Often we hear that someone's best practice would help us without considering the uniqueness of the context that someone else lives in. This makes the transfer of best practice difficult and usually accounts for its failure. In order to increase the success rate, receiving organizations need to prepare their culture to absorbing and using new practices. This preparation is like preparing your garden for planting.
Read more here.
Speaking Truth to Power: Nurturing a Reflective Culture at the U.S. Defense Intelligence Agency
What is typical in almost all organizations is the existence of hierarchy and its effect on the flow of information. Important information is usually only thought of as moving from the top to the bottom, but it obviously moves from bottom to top as well, however, there are challenges to doing so. Ways to overcome this challenge are discussed in this article.  Read more here.
Viewpoint: A Formula for Success: Sometimes You Have to Shake up the Status Quo
Taking risks within an organization has to be well strategized in order to optimize success at whatever the goal. With sufficient political cover, it is possible. In order for employees to learn to do things differently, they actually have to be allowed to do things differently, things they decide to do differently, not what someone else things needs to be done.  Read more here.
Creating Networks at the Defense Intelligence Agency
Social networks connect horizontally and integrate with the vertical direction of the traditional hierarchy within organizations. We know that social networks are more than meeting around the water cooler. Those who network well have been shown to be the higher performers, hence reinforcing networking can lead to better performers.  Read more here.
Full Spectrum Analysis: A New Way of Thinking for a New World
There is a big difference in how problems are attacked depending on whether the problem is conceptualized as a "puzzle" or a "mystery." The usual mode of operating is to view the world as a puzzle and try to find that piece or pieces that solve the puzzle. But, more complex problems are really mysteries that require tacking back and forth between and outside of our familiar problem-solving methods.  Read more here.
A Leadership View of "Crossing Boundaries"
How does a leader of organization feel about collaborative efforts that solve real problems? What makes such effort a success and why are these important to the leader? We know the positive value that employees receive when they are part of the problem identification and solution – but we have little insight into why leaders feel that way. This short paper answers this question.  Read more here.
The Dark Side of Clarity: Its Effect on Knowledge Production and Decision-Making
When a decision-maker's default expectation for receiving information is clarity above all else, a natural expectation, which has a unintended negative effect of reducing the motivation for and likelihood to engage in critical thinking about the information received.  Read more here.
Defense Intelligence Agency's Knowledge Lab: Lessons from Really Changing Intelligence
In this story, we give specific examples of how an organization prepares itself for change, change by the individuals who want the change. This is not about a top-down change management effort. This is about "learning how to learn." Read Part 1  and  Part 2.
Investing in the Social Capital of Knowledge
We hear people use the term "social capital" as it relates to the value of connections between people. These connections have a very real impact on knowledge that is created and shared across boundaries. What this means is that improvements you undertake to your knowledge production activities must also consider the social bonds in which and through which knowledge is created and transferred.  Read more here.
When Generals Consume Intelligence: the problems that arise and how they solve them
When leaders at the highest levels of their organization, where they are the responsible party for the well-being of its employees yet still report to political or board oversight, are confronted with contradictory information, they go through a self-learning process in order to resolve the contradictions. This self-learning process is something they are not trained or prepared for, but which could be part of developmental processes.  Read more here.
Communication Patterns between the Briefer and the Policymaker
What actually happens with employees who have information communicate with decision-makers who need the information, especially when significant social and organizational boundaries have to be crossed? This study uses intelligence briefers to the highest level of policymakers in the United States to investigate and answer this question. Read more here.
Beyond Tradecraft: Intelligence Analysts Learn through "Non-tradecraft" Behaviors
Any knowledge organization trains its employees. Typically, for technical tasks, the training is focused on the cognitive skills necessary to complete organizational tasks. But some technical tasks also benefit from advancing behavioral skills such as how to judge how a decision-maker processes information or how to engage in a dialogue with a decision-maker. Both cognitive and behavioral skills need to be developed.  Read more here.
The Challenges of Creating a New Analytical Culture
Many times in organizations, we believe that the solution to a problem is to throw more resources at a problem. This has become the default approach. But other options are available. Here, faced with the problem of improving national security intelligence analysis, instead of advocating for increasing the number of analysis, the argument is put forward to change the selection and entrance process to the profession focusing on cognitive abilities, rather than rely so heavily on experience.  Read more here.
Is Intelligence an Instrument of National Power?
Most organizations have an intelligence function to make sense the external environment. How organizations use this function ranges from expressing policy objectives to helping to formulate policy objectives. In national security, it is imperative that intelligence not be politicized. Making terms clear, like "instruments," can help avoid confusion about the role of information.  Read more here.
How Information Overload and Equivocality Affect Law Enforcement Intelligence Analysts: Implications for Learning and Knowledge Production
Employees who create knowledge for decision-makers are affected by some everyday constraints, such as being overloaded with information and tasks, and experiencing ambiguity in what things mean, and these constraints have pronounced effects on the knowledge they produce. Decision-makers then unaware carry through into their organization information of varying degrees of quality that they assume, incorrectly, is uniform.  Read more here.
Bringing the "Wall of the Unknown" Down: Reframing Complex Problems
We often hear two opposing sides of an argument unable to resolve their differences, each maintaining their perspective is the only true one. But if we take a closer look at the basis for each side's argument, we often find different assumptions at play. Once these assumptions are exposed, making sense of differences becomes possible and productive.  Read more here.